This the seventh ship to bear the name HMS Vengeance was the second of the Colossus Class (1944) Light Fleet carriers to be completed, and the first aircraft carrier to bear the name.

She was built at Swan Hunter launched in 1944 and commissioned on 15-January-1945.

She first deployed to the British Pacific Fleet, but not committed to action.

In company with the other carriers HMS Indomitable, Colossus Venerable, Vengeance as Admiral Harcourt's flagship witnessed the surrender of Hong Kong on 5-September-1945. She also assisted with the re-occupation of nearby Chinese ports.

The following months were spent ferrying medical teams and food around to where they were needed to alleviate the suffering of those released from Japanese occupation.

On her return to the UK she relieved HMS Theseus as training carrier for the Home Fleet until 1949.

After this she spent several trips as ferry carrier to Singapore.

Then she was converted at Devonport for service with the Royal Australian Navy between 1952 and 1955..

She spent the Korean War in Australian waters training aircrew and deck personnel for active service with carriers off Korea.

During 1953-54 various carrier air groups were embarked, with the last leaving on 6-May-1956.

Time was then spent at Devonport in Reserve until late 1956 when she was sold to Brazil.

After refit at the Netherlands when angled deck, mirror landing aids and radar were fitted, she was commissioned into the Brazilian Navy as the Minas Gerais on 06-Dec-1960.

She remains in service at March 2004, having recently completed a major refit.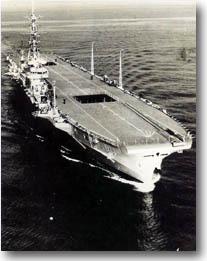 (Royal Navy)