The fourth Illustrious was the first of a new class of Aircraft Carrier and was commissioned on 21-May-1940.

Her first theatre of action was the Mediterranean in defence of the Malta convoys and where, on 11-Nov-1940, twenty Swordfish aircraft attacked the Italian Naval Base at Taranto. They inflicted severe damage on the Italian Fleet and helped to tip the balance of Mediterranean Sea power in favour of the Allies.

Early in 1941, she suffered extensive damage and many casualties when attacked by a large force of JU-87 Stuka dive-bombers.

After initial emergency repairs at Malta, she moved to Alexandria for more temporary repairs. Then it was on to Durban for a full underwater inspection. Finally she went to Norfolk, USA where she was refitted and returned to active service in Dec-1941 in company with HMS Formidable who had also undergone repairs at Norfolk..

March 1942 found her in the Indian Ocean at Madagascar, and she remained in the Indian Ocean until refit at Durban mid-1942. Then back to UK early 1943 for another refit when her flight deck was lengthened to 740ft (226M), 120ft (37m) more than the original length.

In Aug 1943 she replaced the badly damaged HMS Indomitable in the Mediterranean with Force H.

Her airgroup now comprised 50 aircraft, and they were used to support the Salerno landings by covering the Escort CV's (CVE). The CVE's were placed nearer to the shore and their aircraft directly covered the beachead.

Then it was on to the Eastern Fleet and on 19-Apr-1944 in company with USS Saratoga she took part in the strike against the Japanese at Sabang.

On 25-Jul-1944 in company with HMS Indomitable and HMS Victorious took part in another strike against the Japanese at Sabang. After which it was to South Africa for refit.

On 22-Nov-1944 the British Pacific Fleet (BPF) was formed to replace the Eastern Fleet and operate alongside the US Navy in the Pacific. Illustrious was one of the four carriers initially included.

After supporting the US landings at Okinawa Illustrious went to Sydney for repairs, then it was back to the UK where she was when the war ended.

She returned to home waters as a training and trials ship before being laid up in 1954 and finally scrapped in 1957.

Appeared at the Coronation Review 1953.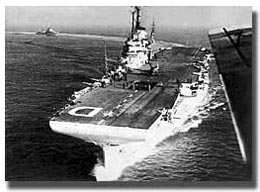 Won the Battle Honours: Taranto 1940, Mediterranean 1940-41, Malta Convoys 1941, Diego Suarez 1942, Salerno 1943, Sabang 1944, East Indies 1944, Palembang 1945 and Okinawa 1945.