This the seventh ship to carry the name HMS Glasgow was a Cruiser.

Built by Scotts of Greenock, laid down 16-Apr-1935, launched 20-Jun-1936 commissioned 09-Sep-1937.

On completion joined the Home Fleet and at the start of WW2, was with the 2nd Cruiser Squadron and served on the Northern Patrol.

She escorted their Majesties the King and Queen to Canada in 1939, and also took a large quantity of gold to Fort Knox as an emergency reserve.

Undertook operations in the Norwegian Campaign Apr-1940.

In the Spring of 1940 she again carried treasure and gold, being transferred from Norway when the King and Queen of Norway were given passage to the North of their country.

Nov-1940 went to the Mediterranean as a convoy escort and took part in the famous Fleet Air Arm raid that crippled the Italian Fleet at Taranto.

On 03-Dec-1940 while at anchor in Suda Bay, Crete was hit by two aircraft torpedoes and badly damaged, with two of her four shafts out of action. Repairs at Alexandria and then Singapore took until Aug-1941.

Remained in the East Indies until Apr-1942 when she went to the USA for refit and final repairs to the damage caused at Suda Bay.

Rejoined the Fleet with the 10th Cruiser Squadron at Scapa Flow, and covered Arctic convoys. Captured the blockade runner Regensburg on 30-Mar-1943.

In Jul-1943 joined the Plymouth Command. There while in company with the cruiser HMS Enterprise, she fought a three-hour battle with 11 enemy destroyers of which three Z27, T26 and T27 were sunk and four damaged with gunfire.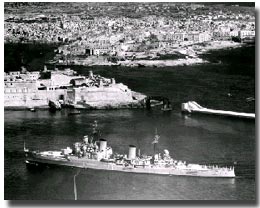 On 'D' day, HMS Glasgow led a US Force toward the beaches, providing naval gunfire support to the landing parties.
On 25-Jun-1944 while bombarding Cherbourg, was damaged by shore batteries. Repairs took until May-1945.
Went to the East Indies 22-Aug-1945 and remained there until 1948 as Flagship East Indies Fleet.
Then went to the West Indies again as Flagship, remaining there until 1950.
Moved to the Mediterranean 1951 as Flagship Mediterranean, until 1955.
Appeared at the Coronation Review 1953.
Returned to the UK and joined the Home Fleet as Flag Officer D.
Paid off Nov-1956.
Sold Mar-1958 for scrapping and arrived at Blyth 08-Jul-1958 for breaking up.
Won the Battle Honours: Norway 1940, Biscay 1943, Arctic 1943, Normandy 1944.