The current Invincible, the sixth ship to bear the name, is the first of the Invincible Class (1980) Support Aircraft Carriers (CVS).

Built by Vickers of Barrow-in-Furness, laid down Jul-1973, and launched 03-May-1977.

She served in the Falklands Campaign in 1982, in the Adriatic Operation 'DENY FLIGHT' between 1993 and 1995 and in the bombing campaign 'DELIBERATE FORCE' in Bosnia in 1995.

In 1998 and 1999, her FA2 Sea Harriers flew air combat patrols to enforce the No-Fly Zone over Southern Iraq during Operation 'BOLTON'. This was followed by a short notice Operational deployment to the Balkans to take part in Operation 'ALLIED FORCE' where, once again, the FA2 Sea Harriers provided protection for NATO air forces whilst her helicopters supported the aid programme to refugees during the height of the Crisis.

Decommissioned and put into reserve Aug-2005.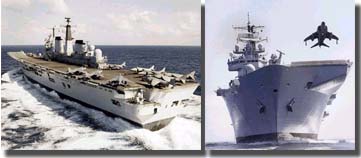 Took part in the Trafalgar 200 Fleet Review.
Towed to breakers yard 24-Mar-2011.
Won the Battle Honour: Falkland Islands 1982.
Other HMS Invincible
- 1st HMS Invincible
- 2nd HMS Invincible
- 3rd HMS Invincible
- 5th HMS Invincible
- 5th HMS Invincible
- 6th HMS Invincible
- Invincible Class (1980) CVS
- Specifications
- Ships
- Plans/Schematics
- Pictures
- Full Battle Honours
Outside Links
- Official Website
- Associated Sites
- Related Sites