This HMS Invincible was the fifth ship to carry the name, and the name ship for the first class of battlecruisers built. Battlecruisers were intended to be armed to battleships standard, but have the speed of a cruiser.

Invincible was built by Armstrong Shipbuilders, laid down in April-1906, launched 13-Apr-1907 and completed in Mar-1908.

She served with the 1st Cruiser Squadron, Home Fleet from 1909-13, then with the 1st Battle Squadron until August-1913. Following which she went out to the Mediterranean Fleet until the end of 1913.

At the start of WW1 she was on the East Coast of Britain, and took part in the Heligoland Bight action of 28-August-1914. In November she was detached to the South Atlantic and took part in the Battle of the Falkland Islands where, in company with Inflexible, the German ships Scharnhorst and Gneisenau were sunk. She returned to the Grand Fleet in May 1915.

During the Battle of Jutland on 31-May-1916, she was hit by gunfire in the Q turret which caused a magazine explosion, broke in half and sank immediately, only 6 men survived.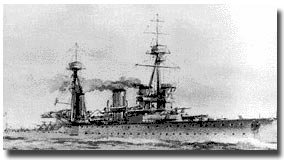 Won the Battle Honours: Heligoland 1914, Falkland Islands 1914, and Jutland 1916.
Other HMS Invincible
- 1st HMS Invincible
- 2nd HMS Invincible
- 3rd HMS Invincible
- 4th HMS Invincible
- 5th HMS Invincible
- 6th HMS Invincible
- Invincible Class (1908) BC
- Specifications
- Ships
- Plans/Schematics
- Pictures
- Full Battle Honours
Outside Links
- Official Website
- Associated Sites
- Related Sites