This the first ship to carry the name HMS Gloucester was a 54-gun ship.

Built by Graves of Limehouse as part of the Commonwealth naval programme. Launched 1654 and of 755 tons builders measurement.

She had an exceptional career and gained 6 battle honours during the Dutch Wars.

She took part in an expedition against the Spanish in the West Indies early in her service.

She was wrecked off Yarmouth in 1682 on the way to Leith, running aground due to a navigational error. Many of the crew were drowned, but among the survivors were His Royal Highness The Duke of York (later King James II) and John Churchill (later the Duke of Marlborough).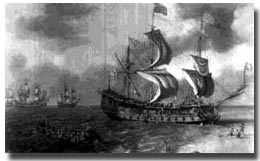 Won the Battle Honours: Lowestoft 1665, Four Days' Battle 1666, Orfordness 1666, Sole Bay 1672, Schooneveld 1673 and Texel 1673.
Other HMS Gloucester
- 1st HMS Gloucester
- 2nd HMS Gloucester
- 3rd HMS Gloucester
- 4th HMS Gloucester
- 5th HMS Gloucester
- 6th HMS Gloucester
- 7th HMS Gloucester
- 8th HMS Gloucester
- 9th HMS Gloucester
- 10th HMS Gloucester
- ? Class
- Specifications
- Ships
- Plans/Schematics
- Pictures
- Full Battle Honours
Outside Links
- Official Website
- Associated Sites
- Related Sites