The 6th HMS Royal Sovereign was launched at Portsmouth on 25-April-1857. She was classed as a 1st Rate 120 gun ship, of 3,765 tons.

During a refit from Apr-1862 to Aug 1864 she was cut down and converted to an armoured screw-ship, mounting 5 heavy guns in centre line turrets. As illustrated below.

She was sold in 1885.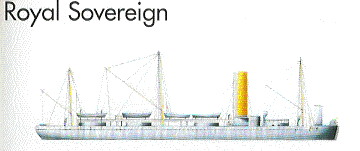 Other HMS Sovereign
- 1st HMS Trinity Sovereign
- 2nd HMS Royal Sovereign
- 3rd HMS Royal Sovereign
- 4th HMS Royal Sovereign
- 5th HMS Royal Sovereign
- 6th HMS Royal Sovereign
- 7th HMS Royal Sovereign
- 8th HMS Royal Sovereign
- 9th HMS Sovereign
- Specifications
- Ships
- Plans/Schematics
- Pictures
- Full Battle Honours
Outside Links
- Official Website
- Associated Sites
- Related Sites