This the tenth ship to carry the name HMS Cumberland was a Cruiser.

Built by Vickers Armstrong of Barrow-in-Furness, laid down 18-Oct-1924, launched 16-Mar-1926 and commissioned 08-Dec-1927.

On completion went to the China Station until 1935 when she returned home for reconstruction. After this it was back to the China Station until 1938.

Then she joined the 2nd Cruiser Squadron.

At the start of WW2 she was with the South America Division. During the Hunt for the Admiral Graf Spee she formed part of Force G off the west coast of South America until Oct-1939 when she operated from the Falkland Islands to the Estuary of the River Plate.

There on 05-Dec-1939 in company with HMS Ajax she intercepted the blockade runner Ussukuma.

Jun-1940 she escorted the first Middle east troop convoys in the Atlantic.

Jul-1940 she hunted for the raider Thor then moved to the Freetown area and operations against the Vichy French. Sinking the munitions ship Poitiers on 16-Sep and later being hit herself at Dakar.

Dec-1940 saw her back on the West of the South Atlantic looking for raiders off the River Plate.

In 1941 returned to home waters and the Home Fleet and served on Arctic convoy escort from 1942 to 1944.

Joined the Eastern Fleet in the Indian Ocean Mar-1944. Took part in the Sabang raid, carrier raids on Sumatra, the Nicobar Islands and the Leyte Gulf diversion operation.

She accepted the Japanese surrender at Java.

Then after the war took part in reoccupation duties in the Netherlands East Indies, before returning home.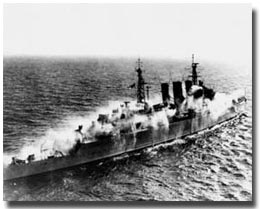 In 1951, she was converted into the Navy's first trials cruiser and undertook the testing of modern weapons systems and damage control in a nuclear, biological and chemical age. In 1957 she performed her first pre-wet test shown here. Pre-wetting has been shown to remove 90% of contamination. Current ships NBC protection systems owe much to the pioneering work of this HMS Cumberland.
Paid off in 1958 and arrived at Newport 03-Nov-1959 for breaking up.
Won the Battle Honours: North Africa 1942, Arctic 1942-43, Sabang 1944, East Indies 1944-45, Burma 1945 and Malaya 1945.