The first Ark Royal was a Galleon built for Sir Walter Raleigh in 1587 at Deptford, and originally named Ark Raleigh. Bought by Queen Elizabeth I for £5,000 and renamed Ark Royal.

The flagship of Lord Howard of Effingham against the Spanish Armada of 1588, and one of the largest vessels in the English fleet.

Ark Royal had two gun decks, double forecastle, quarter deck and poop deck right aft.

As a Galleon, she had an elegant outline with none of the cluttered superstructure then common on such large vessels.

Her armament ranged from 60lb to 6lb (29kg to 2.9kg) cannon.

Rebuilt at Woolwich 1608, and renamed Anne Royal.

Wrecked Apr-1636 at Tilbury Hope and broken up.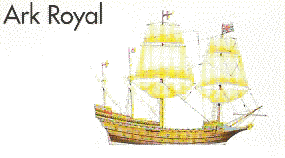 Won the Battle Honours: Armada 1588 and Cadiz 1596.
Other HMS Ark Royal
- 1st HMS Ark Royal
- 2nd HMS Ark Royal
- 3rd HMS Ark Royal
- 4th HMS Ark Royal
- 5th HMS Ark Royal
- Specifications
- Plans/Schematics
- Full Battle Honours
Outside Links
- Official Website
- Associated Sites
- Related Sites