This the seventh ship to carry the name HMS Ardent was an A Class, destroyer.
Built by Scott's, laid down 30-Jul-1928, launched 26-Jun-1929 and commissioned 14-Apr-1930.
On commissioning Ardent joined the 3rd Destroyer Flotilla in the Mediterranean.
Took part in the King George V Silver Jubilee Fleet Review 16-Jul-1935.
At the start of WW2, saw her in the Channel with the 18th Flotilla. Then in Feb-1940 moved to the Home Fleet for the Norwegian Campaign.
On the afternoon of Saturday 08-Jun-1940, Ardent in company with her sister ship Acasta was escorting the Aircraft Carrier HMS Glorious in the Norwegian Sea, west of Narvik, when they were intercepted by the German battlecruisers Gneisenau and Scharnhorst. All three British ships were sunk by gunfire in a little over two hours, with the loss of over 1,500 officers and men of the Royal Navy, Royal Marines, and Royal Air Force.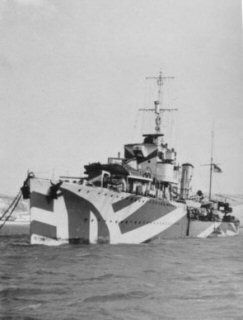 Won the Battle Honour: Atlantic 1939-40, Norway 1940 and 'Scharnhorst' 1940.
Other HMS Ardent
- 1st HMS Ardent
- 2nd HMS Ardent
- 3rd HMS Ardent
- 4th HMS Ardent
- 5th HMS Ardent
- 6th HMS Ardent
- 7th HMS Ardent
- 8th HMS Ardent
- A Class (1930) DD
- Specifications
- Ships
- Plans/Schematics
- Pictures
- Full Battle Honours
Outside Links
- Official Website
- Associated Sites
- Related Sites