This the sixth ship to carry the name HMS Captain was an Iron, screw, turret, battleship.

Built by Laird, laid down Jan-1867, launched 27-Mar-1869 and completed in Jan-1870.

She spent the spring and summer of that year in home waters, when she carried out a number of trials. In August she left for Gibraltar.

On 6-Sept she encountered a strong gale during which, even under reefed sails, she was forced over so much that she capsized, with the only 18 of her crew surviving.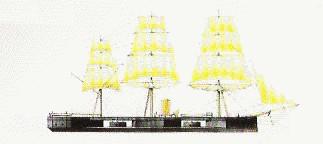 Other HMS Captain
- 1st HMS Captain
- 2nd HMS Captain
- 3rd HMS Captain
- 4th HMS Captain
- 5th HMS Captain
- 6th HMS Captain
- Captain Class (1870) BB
- Specifications
- Ships
- Plans/Schematics
- Pictures
- Full Battle Honours
Outside Links
- Official Website
- Associated Sites
- Related Sites