This the fourth HMS Bellerophon was built at Portsmouth Dockyard, launched 27-Jul-1907 and completed 1909.

Bellerophon and her sisters closely followed the dimensions of HMS Dreadnought. But with improvements to torpedo defences, bulkhead armour and secondary armament. They also had their masts in front of the funnels which avoided smoke problems to the command top.

Bellerophon had an unlucky early career. She was damaged in a collision with the battlecruiser Inflexible in 1911, and the merchant vessel St Clair in 1914.

She served with the Home Fleet and fought at Jutland in 1916.
After WWI she was converted to a gunnery training ship.

Sold 08-Nov-1921, and towed to Germany 14-Sep-1922 for scrapping.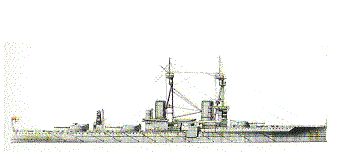 Won the Battle Honour: Jutland 1916.
Other HMS Bellerophon
- 1st HMS Bellerophon
- 2nd HMS Bellerophon
- 3rd HMS Bellerophon
- 4th HMS Bellerophon
Bellerophon Class (1909) BB
- Specifications
- Ships
- Plans/Schematics
- Pictures
- Full Battle Honours
Outside Links
- Official Website
- Associated Sites
- Related Sites