The first HMS Audacious was built by Randall of Rotherhithe, launched 23-Jul-1785, as a 3rd Rate, 74-gun, of 1,624 tons builders measurement, 168ft long and 47ft wide.

She took part in many actions during the almost continuous warfare that Britain was engaged in at the turn of the 18th Century.

One action was the Battle of the Nile in August 1798, when she fought and defeated the French ship Conquerant.

Vessels like the Audacious were floating gun platforms, their primary task being to undertake offensive actions against an enemy fleet.

Although her type was considered to be the best balance between offensive power and sailing ability; French vessels had a better underwater hull form and could usually out sail their British counterparts.

She was broken up in Aug-1815.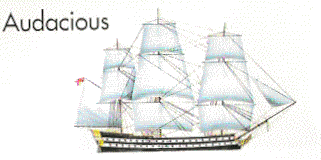 Won the Battle Honours: First of June 1794, Nile 1798 and Gut of Gibraltar 1801.
Other HMS Audacious
- 1st HMS Audacious
- 2nd HMS Audacious
- 3rd HMS Audacious
- 4th HMS Audacious
- Specifications
- Plans/Schematics
- Full Battle Honours
Outside Links
- Official Website
- Associated Sites
- Related Sites