Ben-my-Chree, a former passenger vessel on the Isle of Man route, was requisitioned and converted into a seaplane carrier in 1915.

She had a large hangar aft, a flying-off ramp on the fore-deck, and was carried four Sopwith Schneider seaplane fighters. These fighters presented the first serious threat to the Zeppelin airships which were attacking targets in Great Britain.

Later, armed with two torpedo-carrying Short seaplanes, she served in the Dardanelles campaign, and her aircraft sank two Turkish vessels.

While anchored in Kastelorgio harbour in 1917, Ben-my-Chree was shelled by Turkish shore batteries at Kastelorizo and sunk later.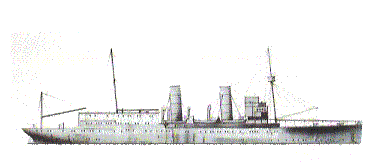 Won the Battle Honour: Dardanelles 1915-16.
- Specifications
- Plans/Schematics
- Pictures
Outside Links
- Official Website
- Associated Sites
- Related Sites